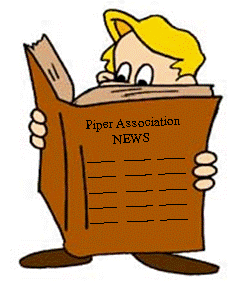 PIPER ASSOCIATION
******* NEWS *******




Send news items to mikebray@chartermi.net





The Piper Report
Issues of The Piper Report, the newsletter of the USS Piper Veterans Association, dating from January 2006 to the present can be accessed HERE. Please send articles, photos, etc. for publication to mikebray@chartermi.net

The Piper-Scope
The Piper-Scope was published in October and November of 1962, during the Cuban Missile Crisis. Click HERE for the news as reported on Piper at that time.

Newspaper Clippings
Click HERE for Piper newspaper clippings. If you have one to share, send a copy to: mikebray@chartermi.net.

Piper History
John Clarkin, USS Piper 1944-45, recently contributed a microfilm to the Association containing records of Piper's 3 war patrols. The Piper History page has been updated and now has all three war patrols on it. The Piper History file was created in PDF format to allow ease of reproduction. The file may be printed using your home computer printer or copy the file to a CD and take it to your local copy center to have it printed professionally.

Newsreel of Japanese Surrender
Historical Footage: Japanese Surrender Signing Aboard Battleship Missouri Sunday Sept. 2, 1945.

A film of the actual ceremony of the Japanese signing their surrender ending the second world war. General Douglas MacArthur was the supreme commander of our armed forces in charge of the signing ceremony.

Click HERE to view the newsreel.

Stroke Recognition
Read how Three Simple Checks can help you to recognize a stroke and the need for emergency medical help.

Member Websites
If you have a personal website, please send me the web address and I'll include a link to it under "Member Websites" on the "Links" page. Thanks, mikebray@chartermi.net.

Rear Admiral Eugene B. Fluckey dead at age 93
Eugene Bennett Fluckey, a legendary World War II submariner and one of the most highly decorated living American servicemen, died Thursday night (June 28, 2007) at a hospital in Annapolis, Maryland, a hospital spokeswoman said. He was 93.

In five war patrols as the skipper of the submarine Barb, Fluckey sank dozens upon dozens of Japanese ships and destroyed many more small craft and shore installations, according to the Naval Historical Center. Fluckey's total decorations included the Medal of Honor, four Navy Crosses, and Presidential Unit Citations and Navy Unit Commendations for him and his crew.

Born Oct. 5, 1913, in Washington, D.C., Fluckey graduated from the Naval Academy and accepted his ensign's commission in 1935. He served aboard the battleship Nevada and the destroyer McCormick before attending Submarine School in 1938 in Groton, Conn. After several years serving aboard submarines, then-Lt. Cmdr. Fluckey took command of the Barb in late 1943, and went on to sink more enemy tonnage than any other U.S. sub skipper, according to a recent biography, "The Galloping Ghost," by Carl Lavo. In action against the Japanese in 1944 and 1945, Fluckey and the Barb sank 85 enemy ships, including an aircraft carrier, a destroyer and a cruiser.

His Medal of Honor recognized his "conspicuous gallantry" during a war patrol along the east coast of China from December 1944 to February 1945. According to the official citation, Fluckey and his crew sank a large enemy ammunition ship and damaged additional ships during a "running 2-hour night battle" on Jan. 8, 1945. Later that month, "in an exceptional feat of brilliant deduction and bold tracking," Fluckey and the Barb located more than 30 enemy ships. In the battle that followed, the Americans slipped through enemy defenses, scoring direct hits on six of the main targets and blowing up a large ammunition ship, causing "inestimable damage by the resultant flying shells and other pyrotechnics."

In August 1945, Fluckey was selected to command the new submarine Dogfish, then under construction, although that assignment ended after only a few months when Fluckey was reassigned to Washington. He first served in the office of the Secretary of the Navy before becoming personal aide to the Chief of Naval Operations, Fleet Adm. Chester W. Nimitz.

From June 1947 until he retired in August 1972, Fluckey served in a variety of increasingly important positions, including Commander of Submarine Division 52; Commander of Amphibious Group 4; and Commander of Submarine Force Pacific. He also served as Director of Naval Intelligence before he retired.

From New Jersey Base South, USSVI

August 27, 2006 - At Sea on the Navy Sub Texas
Click Here

January 14, 2006 - Take a tour of a Swedish diesel sub, the HMS Gotland
Click Here

December 31, 2005 - Here's a heartwarming story for the Holiday Season
Link to The Liberty Limited.

December 26, 2005 - Passing of shipmate Donald Wright
Shipmate Donald H. Wright passed away late last week from cancer. He joined SUBVETS Groton Base as a Life Member in 2001. He initially Qualified in Submarines onboard USS PIPER (SS 409) in 1958. He also served aboard USS TINOSA (SSN 606) from 1960 - 1966, USS SEAWOLF (SSN 575) from 1966 - 1967, and USS THOMAS EDISON (SSBN 610) from 1970 - 1972 retiring from the Navy as an ETCM(SS).

August 24, 2005 - Panel approves most military base closures
Commission casts surprise votes to keep Army base, two Navy bases open
Link to story

August 7, 2005 - Rescued submariners return to Russia
Vessel with 7 sailors aboard was freed by British unmanned submersible
Link to story

July 16, 2005
The USS Piper Veteran's Asscociation web site is born. After noticing that Crash Evans' Piper web site was no longer available, Mike Bray sent an email to association president, Frank Whitty, and a discussion began about getting a Piper web site back on the internet. Help will be needed from association members to reconstruct what was lost from Crash's site. It will take time, but hopefully we will once again have a site to preserve our memories of Piper and those that served on her. We need photos, sea stories, etc. Please send info to: mikebray@chartermi.net.